Today, let's knit a Bubble Pussy Hat for the Women's March! I love the simple construction of the standard "classic" Pussy Hat. It is just a rectangle shape knitted on straight knitting needles with knits and purls, then folded into a very powerful and meaningful hat. Recently, the Bubble Knit Stitch pattern has been a big hit on my channel. And if you've given it a try, you know it is so much fun to knit… oh, those crazy K4B drop stitches!
SAVE KNITTING PATTERN TO PINTEREST
After I posted my Bubble Beanie Hat, I started thinking that this Bubble Stitch would be a really unique pattern to play with for a new Pussy Hat design. I was also interested in creating an ombre colored version with my yarn stash of various pink hues, so I set upon designing this free knitting pattern for you. I really love the pretty look of this hat. I hope you are inspired to knitting up your own Bubble Pussy Hat!
The knitting pattern and instructions, along with K4B technique video, is available for free below. Keep scrolling!
---
MORE CRAFTIVISM KNIT PATTERNS
Take a look more craftivism ideas: Classic Pussy Hat, Brain Hat, Pussy Hat Brain Hat
---
GET MORE BUBBLE STITCH KNITTING PROJECTS
Want more Bubble Stitch knitting project ideas?
Check out my entire Bubble Stitch Round Up!
---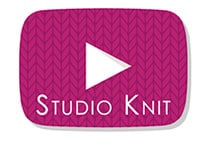 VIDEO TUTORIAL How to K4B Knit 4 Below
For a complete step-by-step tutorial of this knitting technique, you can watch my video below. Subscribe to my YouTube channel Studio Knit for more fun knitting ideas!

In this video, I'm using a swatch of pink yarn with white as my working yarn to best demonstrate this knitting technique.
You will quickly understand how to Knit 1 Below (K1B), Knit 2 Below (K2B), Knit 3 Below (K3B), all the way up the biggie – Knit 4 Below (K4B), used in this pattern.
As with everything in knitting, once you understand clearly how this technique is done, it's super simple to tackle any knitting pattern that uses this stitch.
---
KNITTING MATERIALS for Bubble Pussy Hat
My sample was created with 6 different hues of pink yarn and size 8 US knitting needles. Feel free to use as many or as few colors of yarn for your creative project. This is a great stash buster for all your different colors of pink yarn!
---
PRINTABLE KNITTING PATTERN for Bubble Pussy Hat
Download Free Printable Written Pattern
Click here to Subscribe to my Studio Knit Newsletter

Once you confirm your subscription within your email account, you will immediately be directed to my knitting freebies page to receive this downloadable printable patterns and more!
Just want the knitting instructions on this page? You've got it, keep scrolling!
---
• Slip Knot 
• CO = Cast On Long Tail Method
• K = Knit Stitch 
• P = Purl Stitch
• KFB = Knit Front and Back (increase)
• K2Tog = Knit Two Stitches Together (decrease)
• K4B = Knit 4 Below
• BO = Bind Off
• Changing Yarn Colors
---
STEP BY STEP INSTRUCTIONS to Knit the Bubble Pussy Hat
SIZE: Fits adult heads measuring 21″ – 24" circumference.
KNITTING GAUGE: 20 Sts x 24 Rows = 4" x 4" / 10 x 10 cm in 2×2 Rib Stitch Pattern
_____
Cast On 48 Stitches
_____
HAT BRIM FRONT
Knit 2 x2 Rib Stitch Pattern until height is 4 inches
* K2, P2 *
_____
BUBBLE PATTERN
Switch yarn color now, if desired
Row 1: Purl All
Row 2 : * K15, KFB * (Your Increase Row is now 51 Sts)
Row 3: Purl All Row 4: Knit All Row 5: Purl All Switch yarn color now, if desired
Row 6: K3, * K4B, K3 *
Row 7: Purl All
Row 8: Knit All Row 9: Purl All Row 10: Knit All
Row 11: Purl All
_____
Switch yarn color now, if desired
Row 12: K1, * K4B, K3 *, finishing last 2 sts with K4B, K1
Row 13: Purl All
Row 14: Knit All
Row 15: Purl All
Row 16: Knit All
Row 17: Purl All
Repeat Rows 6 – 17 for 7 inches of the Bubble Pattern
Knit 1 Last Decrease Row * K15, K2Tog * (48 Sts)
_____
HAT BRIM BACK
Switch yarn to Brim Front color, if desired
Knit for 4 inches, until length is 15 inches total
* K2, P2 * (2×2 Rib Knit Stitch Pattern)
_____
FINISHING
• Bind off
• Fold down with Right Side touching
• Tack Sides with Tapestry Needle and Yarn Tails
• Weave In Ends
• Turn Hat Right Side Out and Shape
• Place onto Your Head… Kitty Cat Ears Appear! Meow!