Today, we are going to figure out how to knit a Fidget Spinner!
The kids in my life have challenged me to knit a fidget spinner, so let's give it a go!

SAVE THIS PATTERN TO YOUR PINTEREST BOARD!
MATERIALS
• Yarn – Aran Weight
• Knitting Needles Size 5 US (option 1)
• Embellish Knit (option 2)
• Spool Knitter (option 3)
• Scissors
• Tapestry Needle
• Measuring Tape
• DPN Knitting Needles I-Cord Tutorial
• Embellish Knit I-Cord Tutorial
• Spool Loom Knitter I-Cord Tutorial
---
VIDEO TUTORIAL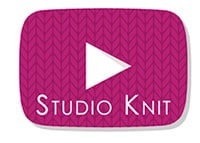 For a complete step-by-step tutorial of this knitting project, you can watch my video above. Subscribe to my YouTube channel Studio Knit for more fun knitting ideas!
ENJOY YOUR NEW KNITTED FIDGET SPINNERS!