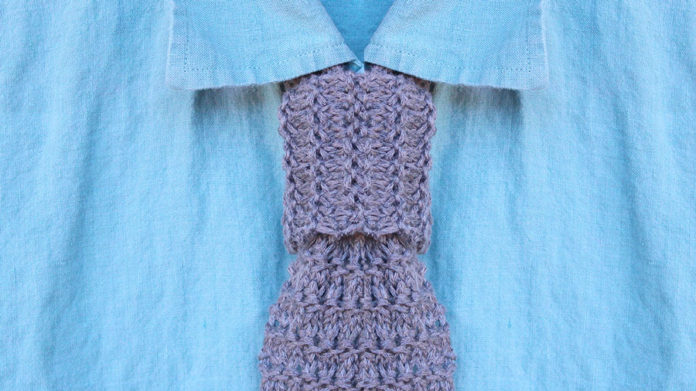 Today's new Granite Necktie is a fun quick-knit that's easy to memorize and oh-so-macho!
It's super fun to create new accessories with all the gorgeous knit stitch patterns.
Created in high-quality linen yarn, this fashion accessory for guys will look great for years to come!

SAVE THIS PATTERN TO YOUR PINTEREST BOARD!
VIDEO TUTORIAL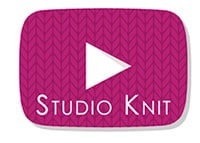 For a complete step-by-step tutorial of this knitting pattern, you can watch my video above. Subscribe to my YouTube channel Studio Knit for more fun knitting ideas!
---
KNITTING PATTERN Granite Necktie
Download Free Printable Written Pattern
Click here to Subscribe to my Studio Knit Newsletter

Once you confirm your subscription within your email account, you will immediately be directed to my knitting freebies page to receive this downloadable printable pattern and more!
Just want the knitting instructions on this page?
You've got it, keep scrolling!

MATERIALS
• Yarn in any weight/fiber/color (example knitted with 2 strands of fingering weight linen yarn – Shibui Knits Linen Yarn in Graphite color)
• Needles appropriate for yarn (example with #4 US knitting needles)
• Scissors
• Tapestry Needle
• Measuring Tape
• Slip Knot 
• Cast On Long Tail Method
• Knit Stitch
• Knit 2 Together
• Knit Front and Back (KFB)
• Purl Stitch 
• Bind Off
KNITTING INSTRUCTIONS

Cast On any Number of Stitches in multiples of 2 fo the desired width of necktie
example has 20 stitches cast on for a width of 2.5 inches
Knit the Granite Stitch Pattern
Row 1: Knit
Row 2: Knit 2 Together (decrease)
Row 3: Knit Front + Back (increase)
Row 4: Purl
Repeat Rows 1-4 until 21 inches in length
Decrease Rows in Granite Stitch
Row 1: Knit
Row 2: Knit 2 Together
Row 3: K1, KFB to last stitch, K1
Row 4: Purl
Repeat Rows 1-4 until width desired
Complete Necktie in Garter Stitch
Knit All Rows until 58 inches in length
Bind Off
Block, as necessary
KEEPER LOOP Cast On
Cast On Same Number of Stitches as above
(example has 10 stitches cast on)
Knit 4 rows
Bind off
Fold and tack sides of loop to width of tie
Tack loop to wrong side of tie 6 inches up from bottom
ENJOY YOUR NEW GRANITE NECKTIE!