BRAIN HAT TREND ALERT!
What's the hot new fashion trend right now? And why am I knitting my brains out? Brain Hats!

VIDEO TUTORIAL
For a complete step-by-step tutorial of this knitting pattern, you can watch my video below. Subscribe to my YouTube channel Studio Knit for more fun knitting ideas!
BRAIN AWARENESS WEEK
Today we are Celebrating Brain Awareness Week (March 13 – 17, 2017), which aims to shed light on the benefits of brain research.
I thought this was the perfect time to let you in on a fun little side project I've been working on these past few weeks.

BRAIN HAT TRENDING ON SOCIAL MEDIA
Do you remember my creepy Brain Hat I posted a couple of years ago for Halloween?
Well, just a few weeks ago that exact same project got really popular online and went viral! Like, trending on Facebook, Twitter, and I had to upgrade my server kind of viral. So crazy!
When I checked out what was going on, it turns out the Science community decided my Brain Hat would be super fun to wear for their upcoming awareness events, most notably the March for Science happening April 22, 2017 all around the world!
The #BrainHat trend has been getting a lot of traction in traditional media outlets, as well. Even Vogue Magazine mentions it!  Check out the latest Brain Hat News Stories here >
I've since gotten really busy, both online and at in-person at knitting groups locally, having fun teaching science-loving knitters how to make these funny hats.  It's been an awesome personal experience and one that I never saw coming.
BRAIN HEALTH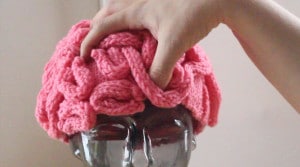 While knitting up a bunch of Brains with my new friends, it got me thinking of the health benefits of knitting on the Brain.
Not only is knitting something that brings our brains joy because we love it, but did you know knitting also helps us stay young by keeping our brain nimble, it staves off pain, both physically and emotionally, and it's overall really therapeutic.
And how do we know this? Scientists actually used the Scientific Method to prove these awesome effects of knitting on the brain.
SCIENCE RESEARCH ON KNITTING BRAIN HEALTH CITATIONS
The Health Benefits of Knitting
New York Times, 01/25/2016
Might crafts such as knitting offer long-term health benefits?
Washington Post, 04/21/2014
The Truth About Knitting and Crochet….They are Good for You!, Craft Yarn Council

BASEBALL BRAIN HATS FOR SALE ON ETSY
Springtime is just around the corner, a lot of people have been getting worried the weather may soon be too warm for traditional knitwear, so we came up with this fun baseball cap alternative.
It's still a little heavier than a basic hat, but it has all the fun brains attached and the brim shields the sun.
Oh, I'm also making a few of the Baseball Brain Hats to sell in my Etsy Shop, so you may want to check that out, too.
JOIN FACEBOOK GROUP "BRAIN HATS AND THINKING CAPS"
I hope you're inspired to get involved in knitting up Brain Hats for Science.
If so, I invite you to check out our Facebook Group called "Brain Hats and Thinking Caps." It's a great group of thousands of knitters all over the world knitting Brain Hats, encouraging one another, showing off their brains. It's just awesome.
Since you're an awesome knitter, I bet there are a lot of people in your area that would love for you to help them learn how to knit these Brain Hats!