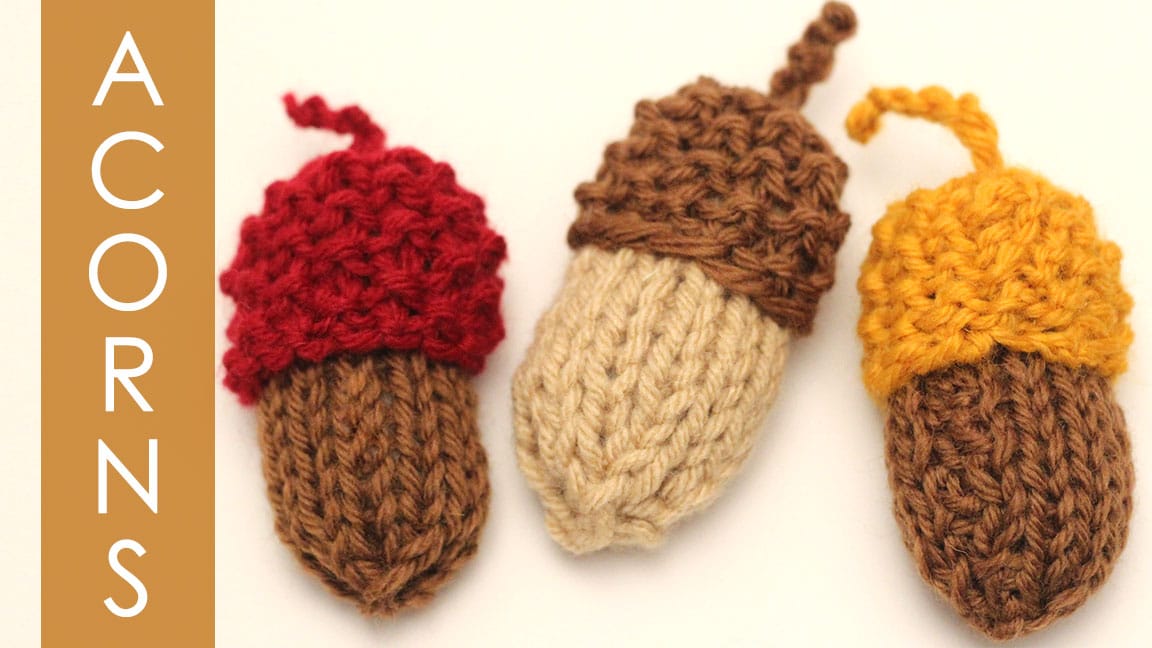 Today, let's knit up these cute quick knit ACORNS!  It's a great yarn buster and perfect for your autumn harvest Thanksgiving décor.
They are knitted up in two parts: a nut and a cap.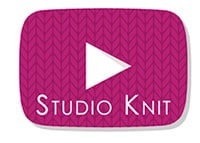 VIDEO TUTORIAL
For a complete step-by-step tutorial of this knitting pattern, you can watch my video below. Subscribe to my YouTube channel Studio Knit for more fun knitting ideas!
MATERIALS
• Yarn – Any size, fiber, and colors of your choice
• Knitting Needles – in the appropriate size for your yarn
• Scissors
• Tapestry Needle
• Stuffing
In my examples, I'm using size 7US knitting needles and aran weighted yarns.
KNITTING TECHNIQUES
• Slip Knot
• Cast On Long Tail Method
• Knit Stitch
• Purl Stitch
• KFB Knit Front & Back Increase
• Knit Two Together K2Tog
KNIT STITCH PATTERNS USED
• NUT Stockinette Stitch
• CAP Seed Stitch
How to Knit the NUT
NUT
Cast On 12 Stitches
Knit the Stockinette Stitch Pattern for 10 Rows
Rows 1, 3, 5, 7, & 9: Knit All Stitches
Rows 2, 4, 6, 8, & 10: Purl All Stitches
Row 11: Knit 2 Together All Stitches (6 stitches remaining)
Row 12: Knit 2 Together All Stitches (3 stitches remaining)
Remove stitches off knitting needle, draw yarn through stitches with your tapestry needle and cinch up your nut body
Seam up the sides and Stuff lightly
Let's get started with the nut. We begin making our beloved slip knot and from there we are going to cast on, using the long-tail cast on method, we are going to cast on 12 stitches. For our first row, since we're doing a Stockinette Stitch, it's going to be the knit stitch all the way down the row. And then, row two, is going to be purling all the way down the row.
Now, once you have knit ten rows total, then it's time to decrease. And we are simply doing the knit two together. So, instead of picking up one stitch to knit, we knit two stitches together to decrease it down. And we'll do that all the way down the row. So, we're taking it from twelve stitches down to six. And then on the back here we're going to decrease some more. Now, this is the purl side, so we're going to purl two together. This might be new to some of you, just like purling just make sure to pick up those two stitches and purl the last two and we will have three stitches remaining on our needle.
Now from here, for those of you who do not like to bind off, you're going to love this. We cut our yarn and then using our tapestry needle we are simply going to take our knitting needle off those stitches and go ahead and cinch them up nice and tight and this is going to form the bottom of our little nut right there. Using our tapestry needle just seam up the edges. And now we can just turn our little nut right side out so we have that pretty, smooth stockinette stitch on the outside and you might want to shape it a little bit with your fingers. And this is great, we can just go ahead and put those yarn tails just tuck them on the inside. No need to weave in our ends at all, which I love. And then taking our stuffing, just use a little bit of stuffing to go ahead and give it some shape. Make sure not to over stuff it too much or else it will get very fat.
How to Knit the CAP
CAP
Cast On 13 Stitches
Knit the Seed Stitch Pattern for 8 Rows
All Rows: * K1, P1 * K1
Remove all 13 stitches off knitting needle, draw yarn through stitches with your tapestry needle and cinch up
Seam up the sides of your acorn cap
Tack Cap onto the body of the Nut
Bring yarn ends up and knot them into a Stem
Okay, it is cap time! Now, I'm using a red yarn for the little topper, the cap of our acorn nut. And we are going to cast on thirteen stitches this time. And once you've done that, we're going to do the Seed Stitch. If you're not familiar with it, this is a great introduction. You simply knit the first stitch and then you bring your yarn to the front and you're going to purl the next stitch. And you just repeat that pattern all the way down the row. So you'll knit one, and you'll purl one, all the way down until you get to the very last stitch, which since we cast on an odd number of stitches, it's going to be a knit stitch at the very end.
And now for row two, we're going to do the exact same thing, we start with knit one, and then we purl one and we continue this seed stitch pattern until we have knit eight rows. And both sides are identical when you're doing the seed stitch. Already, it's time to cut our yarn, take our little tapestry needle and we are going to actually slide all the stitches off our knitting needle. We are not going to have to bind off at all. So, I like to do it slowly and then go ahead and on the opposite side, go ahead and bring that yarn through those stitches and cinch it up! And that's going to be very top of our little acorn top. So cute!
Okay, now just tack the sides of our edges together.
MAKING UP OUR KNITTED ACORN
And now with our little nut and cap, it is time to bring them together and simply place the cap over your nut. We just want to make sure that it stays secure so I like using the cap yarn which is red here to just kind of tack it into the nut and then we're going to bring it all the way up to the top, slide it up, and then taking those two yarn ends, we are just going to knot them together a few times until you have a cute little stem. And then you can just cut it off.
ENJOY KNITTING YOUR ACORNS!
I hope you are inspired to knit up this cute little acorn. It's a really fun project and a great yarn buster. And make sure to check out my other quick knits that I love displaying for the Thanksgiving Holiday. I have beautiful harvest leaves, as well as little mini pumpkin softies. So fun and cute to display during the Thanksgiving season. Happy Holidays, everyone!
SEE MORE THANKSGIVING PROJECTS
How to Knit a Leaf
How to Knit a Pumpkin
How to Knit Napkin Rings