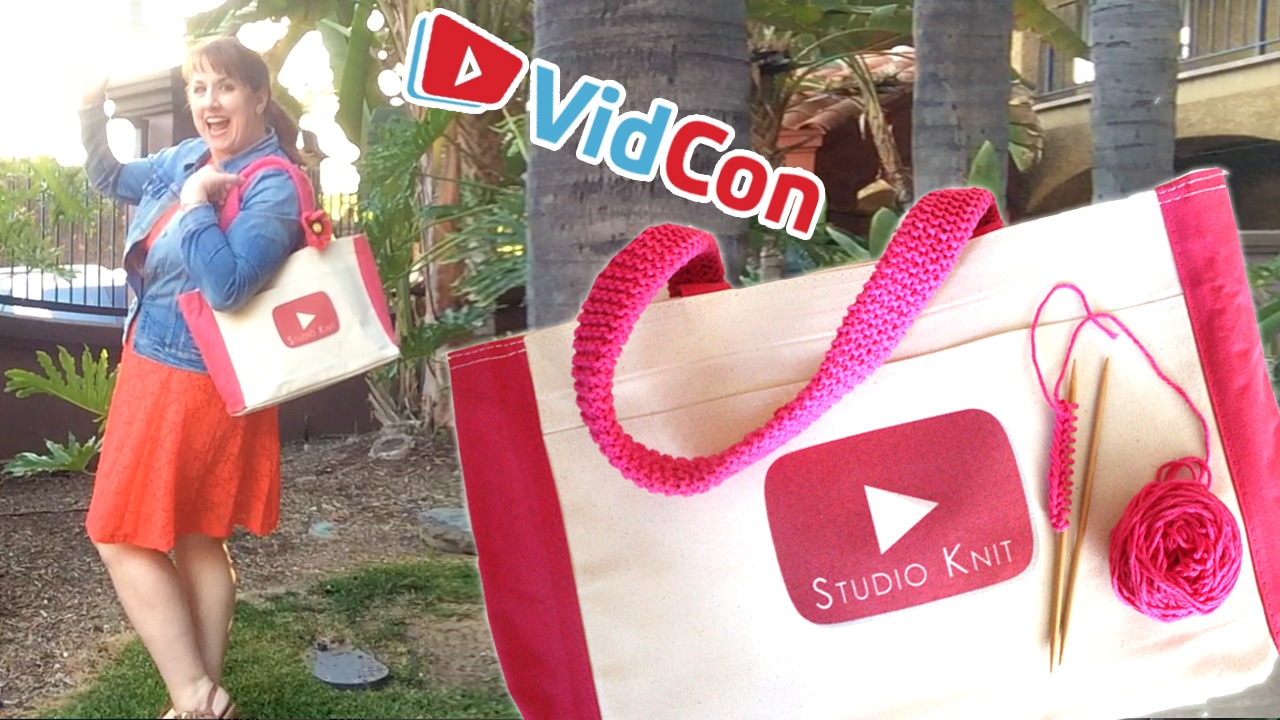 Watch my LIVE Video with Kin Community >
Check out my Summer Knit Series >
I just arrived here in Anaheim for VidCon, got myself registered, and am super excited to find all my friends from YouTube's Next Up and fellow creators at Kin Community!
I wanted to share this super cute Studio Knit bag that I made to collect this year's VidCon goodies.
I first had my logo added to a canvas bag just from one of those online custome company and that was cute. But, I thought enhancing it with a little knitting goodness would make it perfect. You can do this with any summer time bag, shopping bag, school bag, purse… pretty much anything with a handle!
So, for our materials, I am using medium worsted cotton yarn and your color choice is totally optional, knitting needles, mine are size 7, a tapestry needle, and scissors!
To wrap completely around my handle, I'm casting on 12 stitches because it looks to me like 6 stitches on each side is a perfect fit. Cast on the number of stitches you think will wrap around your handle and you know, yarn stretches so it's pretty much guaranteed to fit!
Now all we have to do is knit each row until your handle is the length you desire in the garter stitch. Then bind off and seam it up on the back side of each handle using your tapestry needle and the same yarn you used to knit. Pretty much any sewing technique works, since the bumpy garter stitch is very forgiving. If any of you master sewers have a suggestion on the best sewing technique here, please let us know in the comments below. I pretty much just went freeform and I think it's looking great.
Near each end the yarn was creeping up, so I secured my knitted handles inside the bag itself. I also thought a little knitted Poppy would be the perfect added embellishment, too!
And you are DONE!   So cute! So simple. I love how soft the handles feel now!
KNITTING TECHNIQUES
• Slip Knot http://bit.ly/1g1q6M9
• Cast On Long Tail Method http://bit.ly/1gAPyUd
• Knit Stitch http://bit.ly/studioknit01
• Bind Off https://youtu.be/dxwHk0E-nIU