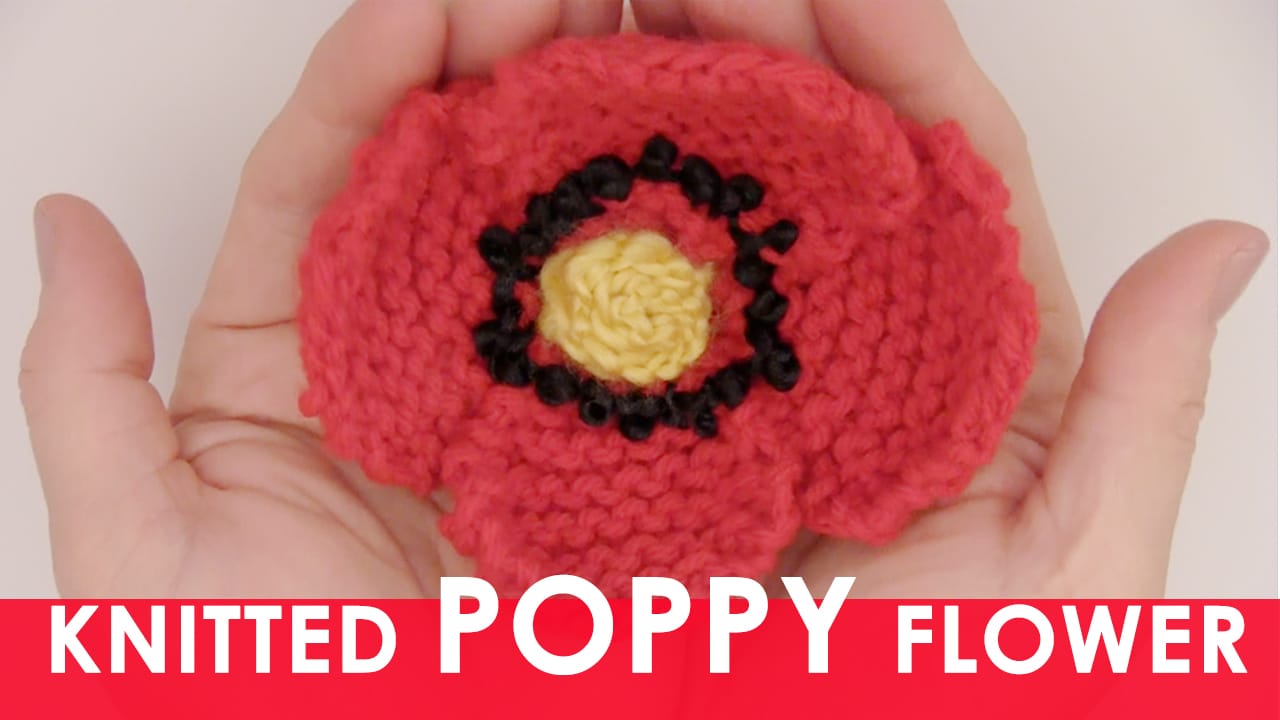 We are going to Knit a Poppy Flower Today! Summer is the perfect time to knit up pretty flowers.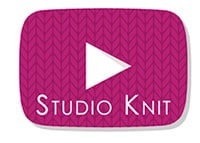 VIDEO TUTORIAL
For a complete step-by-step tutorial of this knitting pattern, you can watch my video below.  Subscribe to my YouTube channel Studio Knit for more fun knitting ideas!
In today's Knitted Flower Series, we are knitting up POPPIES!
These are really great embellishments, you can use them as accessories on headbands, hats, pretty much anything you want to make cute, these flowers will do the trick!  And one of the things I love about this pattern, so we have the four petals, and what makes it look like a poppy are the color choices but you can totally make any sort of flower that you'd like just by switching up the color scheme using this exact same pattern.
5,000 Poppies!
For more Poppy inspiration, check out the organization called 5,000 Poppies. It's a Remembrance Project and what they did is they asked people to knit and crochet these exact same poppies and they took everyone's poppies and they just attached them and attached them together making these huge poppy blankets that are used in installations in major landmarks all across Europe.
It's gorgeous and also gives us a little extra fun inspiration to think about like what we can do with our knitted flowers. That it need not only be embellishments, which are very fun and cool, but you could actually make so many flowers that you just attach them and it becomes a whole blanket. How cool would that be?
Okay, knitting time! Let's get started!
MATERIALS to Knit a Poppy Flower
• Yarn (I used worsted weight),
• Knitting Needles (I used size 7US)
• Scissors
• Tapestry Needle
KNITTING TECHNIQUES
• Slip Knot
• Cast On Long Tail Method
• Knit Stitch
• KFB Knit Front & Back
• SSK vs K2Tog
• Bind Off
ABBREVIATIONS
K = Knit
KFB = Knit Front & Back
SSK = Slip, Slip, Knit
K2Tog = Knit Two Together
PSSO = Pass Slipped Stitch Over
We are going to begin by knitting up our petals, there are going to be four total, of course we start with our slip knot and we are going to begin by casting on seven stitches.
PATTERN for Each Poppy Flower Petal (Make 4)
Cast On 7 Stitches
Row 1: Knit Row (7 sts)
Row 2: KFB, K4, KFB, K1 (9 sts)
Row 3: KFB, K5, KFB, K1 (11 sts)
Row 4: KFB, K6, KFB, K1 (13 sts)
Rows 5 – 8: Knit Rows
Row 9: SSK, SSK, K5, K2Tog, K2Tog (9 sts)
Rows 10 – 12: Knit Rows
Row 13: SSK, SSK, K1, K2Tog, K2Tog (5 sts)
Row 14: K1, Slip1, K2Tog, PSSO, K1 (3 sts)
Bind Off
Each individual petal has a really cool shape to it and we make four petals.  Then we just pair them up very cute, sort of romantic and taking our tapestry needle, we just attach them, tacking them together really easily with our yarn and our tapestry needle. Then with those two we just place one on top of the other and continue tacking them together.
PATTERN for Stamen
Cast On 18 Stitches
Bind Off all stitches
Roll Up, Tack Together
To best see how to put all our flower pieces together, please make sure to watch my video above.  Happy knitting to you!!