This beautiful Bamboo Stitch pattern is a personal favorite!
With two simple rows, we create these really pretty rows that look like stalks of bamboo. Both the right and wrong sides of this stitch look really cool.

SAVE THIS PATTERN BY PINNING FROM MY KNIT STITCH PATTERNS PINTEREST BOARD!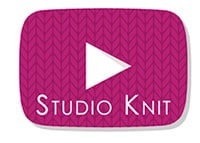 VIDEO TUTORIAL
For a complete step-by-step tutorial of this knitting pattern, you can watch my video below. Subscribe to my YouTube channel Studio Knit for more fun knitting ideas!
ABOUT THE BOOK: I am sharing from a vintage 1963 French Knitting Book, translated into English. "Mon Tricot Knitting Dictionary: 900 Stitches Patterns" handed down to me by my late Grandmother.
KNITTING TECHNIQUES for Bamboo Stitch
• Slip Knot
• Cast On Long Tail Method
• Knit Stitch
• Purl Stitch
Begin by casting on in multiples of two.
On Row one, begin with a Yarn Over by holding the yarn in the back of your needle, then wrap it around clockwise. Now, we will knit two stitches. And bring your needle underneath to pass over the first stitch over your two knit stitches. Then repeat this pattern all the way down the row. Once more time, yarn over, knit two stitches, and pass the first stitch over.
On our second row, we simply purl all the way down the row.
And that's it! Repeat these two rows to create your Bamboo Stitch pattern!
PATTERN for Bamboo Stitch
Cast On in Multiples of 2
• Row 1: * YO, K2, Pass 1st St Over *
• Row 2: Purl All