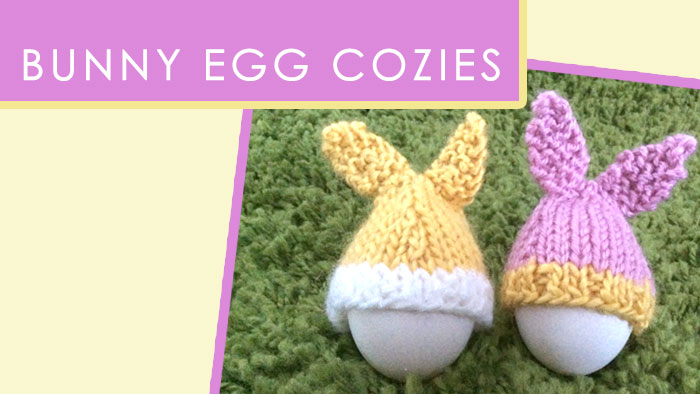 Easter Bunny Egg Cozies are a fun, quick knit that can brighten up your plain old eggs all year round.


PIN THIS PATTERN FROM MY SPRING + EASTER CRAFTS BOARD!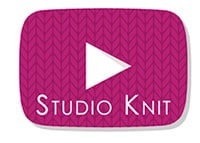 VIDEO TUTORIAL for EASTER BUNNY EGG COZIES
For a complete step-by-step tutorial of this knitting pattern, you can watch my video below. Subscribe to my YouTube channel Studio Knit for more fun knitting ideas!
ABBREVIATIONS 
K – Knit
KFB – Knit Front and Back
K2Tog – Knit 2 Together
K2P1 – Knit 2 Purl 1 Ribbing
P – Purl
MATERIALS to knit our Easter Bunny Egg Cozies are:
• Yarn – Aran or Worsted Weight
• 4 Double Pointed Knitting Needles, Size 7 US
• Stitch Marker
• Scissors
• Tapestry Needle


KNITTING PATTERN
Egg Cozy With Contrasting Color
Cast On 27 Stitches
Divide Stitches among 3 Double Pointed Needles (9, 9, 9)
1. Join in the Round. * K2, P1 *
2. * K2, P1 *
3. Switch to Main Color, Knit All
4. Knit All
5. K2Tog, K7 (24 Stitches)
6. KnitAllAll
7. Knit All
8. K2Tog, K6 (21 Stitches)
9. K2Tog, K5 (18 Stitches)
10. Knit All
11. Knit All
12. K2Tog, K4 (15 Stitches)
13. K2Tog, K1, K2Tog (9 Stitches)
14. K2Tog, K1 (6 Stitches) Weave-In Ends
Ears (Make Two)
1. With Main Color, Cast On 4 Stitches
2. Knit
3. Knit
4. Knit
5. K1, KFB, K2 (5 Stitches)
6. Knit
7. Knit
8. K1, K2Tog, K1, K1 (4 Stitches)
9. Knit
10. K1, K2Tog, K1 (3 Stitches)
11. Knit 12. K1, K2Tog (2 Stitches)
13. Knit
14. Bind Off Using Tapestry Needle
Sew each of two ears onto top of Egg Cozy.
DISCUSSION
We will be knitting in the round. We are using 3 double pointed needles. There are 27 stitches. So, that will be 9 stitches on each of the three needles.   You just knit your first two rows in your contrasting color. In this case, it is white. And those rows will be Knit-Knit-Purl, Knit-Knit-Purl in order to get a nice, ribbed pattern to hold tightly to the egg. This is the brim of the hat!
Next, we are going to switch to our main color. In my case it is yellow. And how we do this is to knit together both color strands three times together to get started. So, knit once, knit twice, knit three times. And then you can let go of your contrasting color and just continue on with your main color. From here on out, it is a knit stitch. That will be for rows three and four.
And now it is time to do decreases. I love this about quick knits. We're already getting down to the finish line. On row five, we're going to knit two together and then seven stitches. Then the same on the next two needles.
After that, there are two more rows of simply knit. If you refer to the pattern, you will see the remaining decreases all the way until the final row. Just weave in your ends. Get that top really tight and your hat is finished! You can leave it just like this, if you would like to do a hat. It looks really cute. Or, continue on and let us make some bunny ears!
I am creating my bunny ears in my main color. Of course, you will not need to do that. This is your egg, your bunny cozy, and you can do anything you want, color-wise, of course!
So, go ahead and finish off by making two bunny ears. You can refer to the pattern and use two regular straight needles. I'm using the exact same double-pointed needles, again Size 7 US. And, there are fourteen quick rows that you knit. You knit increases, as well as decreases, and you bind off.
After you have completed both bunny ears, it is time to sew them on to the very top of your hat. And we are done!
I hope you are inspired to knit up these cute little Easter Bunny Egg Cozies!