K1B knitting technique means Knit one Below!  It's called Knit One Below because rather than knitting this stitch on the needle, we will be knitting into the stitch BELOW it.  The Knit One Below knitting technique is written as K1B in knitting patterns.
The Knit One Below stitch appears in many brioche patterns, which create thick, fluffy dimensional knits.
PINTEREST: SAVE THIS TECHNIQUE BY PINNING FROM MY KNITTING TECHNIQUE INSTRUCTIONS BOARD!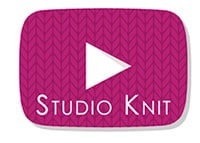 VIDEO TUTORIAL
For a complete step-by-step tutorial of this knitting technique, you can watch my video below. Subscribe to my YouTube channel Studio Knit for more fun knitting ideas!
In my video, I am knitting this stitch with a contrasting color and filming up close, so you will very clearly see how we Knit One Below.
To begin, just pick up the stitch into the V of the Stitch Below. And, Yes, we also pick up our main stitch above, as well. Then, just knit through.