Our beloved Slip Knot is the first stitch in knitting!

PINTEREST: SAVE THIS TECHNIQUE BY PINNING FROM MY KNITTING TECHNIQUE INSTRUCTIONS BOARD!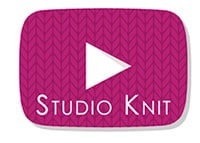 VIDEO TUTORIAL
For a complete step-by-step tutorial of this knitting pattern, you can watch my video below. Subscribe to my YouTube channel Studio Knit for more fun knitting ideas!
It's so easy… surely you've done this before!
Simply take the long end of the yarn, which is attached to ball, and place it over the short end. I just secure it with my left thumb.
Now, taking the long end, take it under the loop, up, and through, pulling it, and that's your slip knot right there.
Then you just slip it tight, put your needle in, and that is actually your first knitting stitch.
You just created your first knitting stitch by making a slip knot. Very cool!